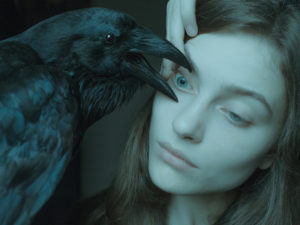 Polish self-taught fine art photographer Kamila Kansy, known as Laura Makabresku, draws inspiration from her deep, intimate connection to her native land – which she perceives as a mysterious realm of sinister fairy tales, in order to design a tragic world revolving around death, obscure eroticism, suffering, and human frailty. The suggestive name of her artistic identity conjures up the darkness portrayed in her haunting photographs which seem to reflect the Freudian uncanny through their eerie and strangely familiar quality.
Stepping away from digital cameras, she embraces the analogue practice with a soft painterly style with dark undertones. To create a gloomy, glacial, and morbid atmosphere, the colours used are often desaturated dark blue and green and the photographs are intentionally underexposed. Some photographs adopt the technique of superimposition to achieve a ghostly aesthetic and induce the impression that there is always something morbid looming within the frame – a dormant presence about to be unleashed.
The distinctive imagery depicting Laura Makabresku's artistic world can be compared to a dream: it has multiple layers, inviting the observer to begin an internal exploration. Her pictures should not only be admired aesthetically, but also felt from within. The shots are like collections of impulses, raw emotions, objects filled with hidden symbolism displayed in a beautifully chaotic, surreal manner which often involves strikingly unexpected combinations of elements such as dead animals, naked bodies, blood, knives, ants amplified in size, ravens pictured indoors, and human bodies with animal masks. The uncanny is ever present in this artistic realm: from dead birds coming out of the mouth of a woman collapsed on the autumnal earth, a naked body covered in moss, guarded by a mysterious fox, a sorrowful girl's languid body enveloped by a goat's hide, a pensive woman touching a bowl filled with blood, upon which a little bird rests, a touching portrait of a girl embracing a fox in a glass coffin, eyes covered by pressed flowers or positioned dangerously close to a raven. All of her entrancing visual creations are filled with lyricism. In addition to these transparent motifs and compositions, the uncanny also lies in the homely atmosphere of the photographs, as well as the strange aesthetic quality reminiscent of macabre fairy tales.
Influenced by Francesca Woodman, her black and white portraits of the naked female body convey a duality between the calm, beautiful, graceful vulnerability and simplicity of the nude body sight and the undertones of death, darkness, emptiness, isolation, and dark sexuality. Through self-portraits, she embraces her fears and anguish and explores themes like autopsy, witchcraft, love, and a deep connection with animals, mortality, and the evil that lurks within her. The universe she creates makes the viewers look within and be inspired to embrace their own dark instincts and fantasies.